We recently went to an RV parts show and learned about a lot of exciting new products. Here are some of our favorites. The majority of these will be arriving in early April before the camping season starts but if you want us to order something for you sooner just give us a call.  
BioKleen Cleaners – We were so impressed with this line of products that we decided to go exclusive. They were formulated by a chemist who saw a need for a product that gives a professionally detailed look and is great for the environment. "Kleen Wash" is their version of a general wash and wax product. It won RVIA Product of the Year – an honor that rarely, if ever, goes to a cleaning product. They also make Oxidation Remover (fiberglass stains), Aluma-Kleen, Fiberglass Cleaner, RV Roof Cleaner & Protectant, Polish & Sealant (our personal favorite), and many more. Here is a link to a video that goes in-depth into each product: Bio-Kleen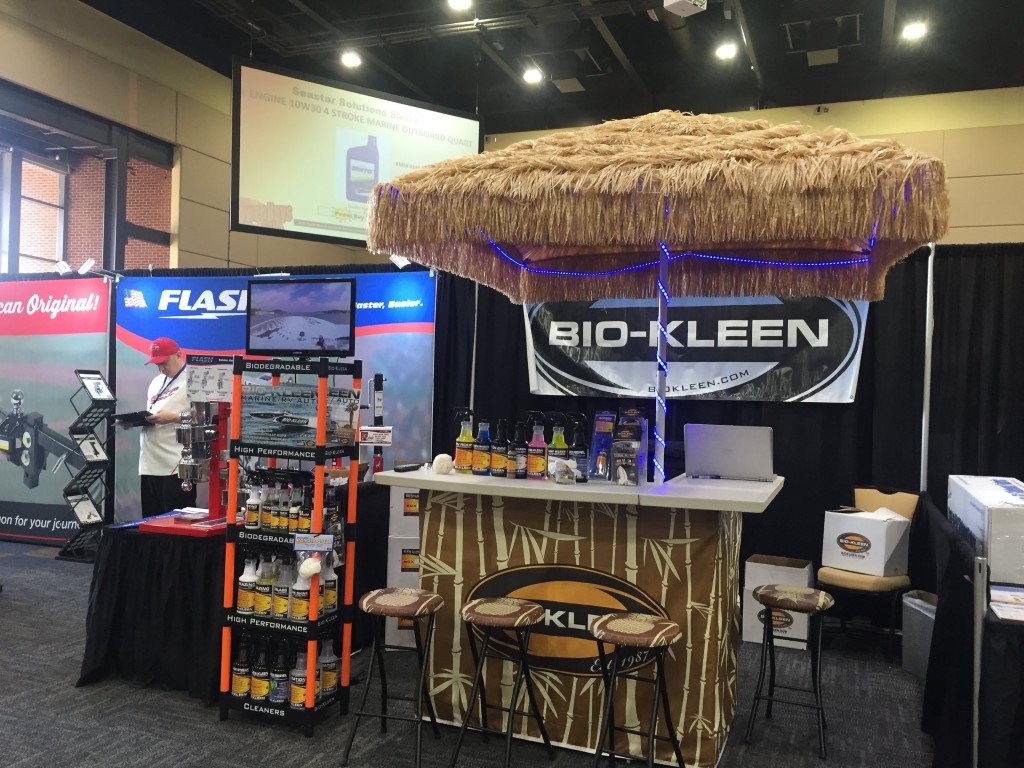 Southwire Tester Bundle – This bundle is a must-have for any RVer! It contains a receptacle tester, a Non-Contact AC Voltage Detector, and a Multimeter. Receptacle Tester- identifies common wiring errors in 120V receptacles. Non-Contact Voltage Tester- Indicates when you get close to the presence of AC voltage. You can use it to speedily check campground pedestals, breakers, wires, etc. You can also use it to find out if your RV has "hot skin condition". This is when the frame of your RV has a different voltage potential as the earth around it. This means that touching your camper could shock you anywhere from a mild tingle to stopping your heart. Here is a great article if you want more information on hot skin conditions: Hot Skin Conditions Multimeter- This is the swiss army knife of testers. It can check AC voltage, DC voltage, DC current, resistance and continuity (ohms), and battery life.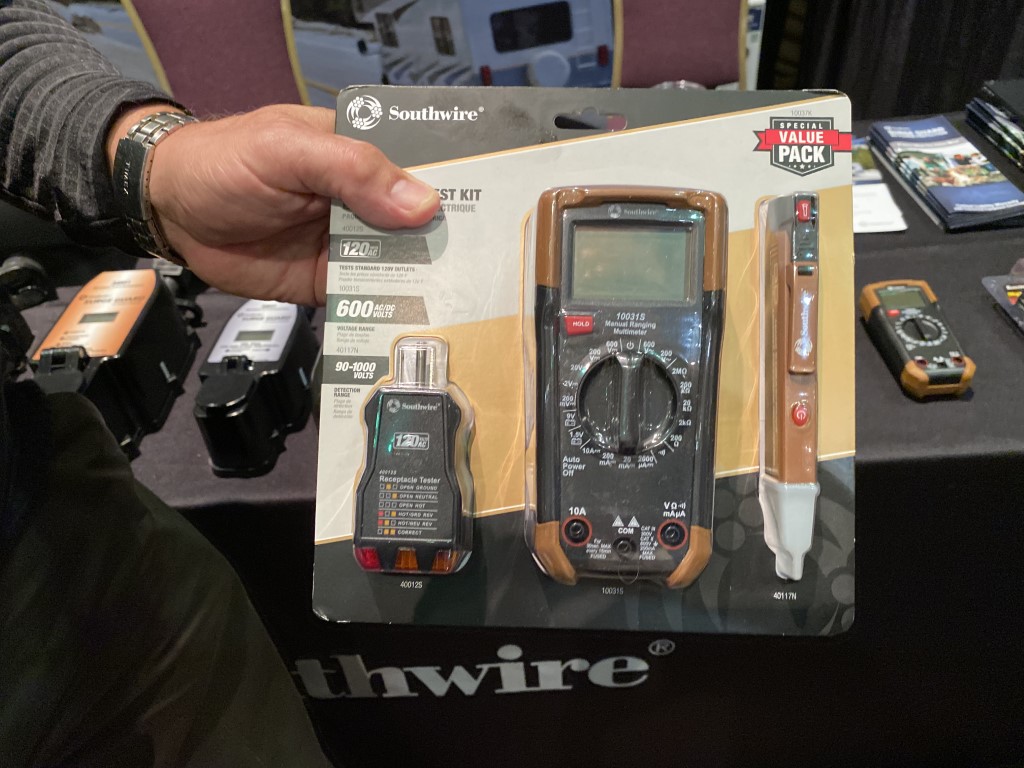 Portable Surge Protector Kits – Progressive Industries debuted these affordable kits, in both 30 and 50 amps, for customers that want more affordable surge protection. It comes with a receptacle tester that you plugin first to test the pedestal for open ground, open neutral, open hot, hot/neutral reversed, and hot/ground reversed. If the receptacle tester shows that the pedestal is wired properly you can remove it. Then you can plug in the surge module (and then your power cord into the surge module). The surge module is only good against one surge (max spike of 22,500amps for 30 – 45,000amps for 50) and has an indicator to alert the user when it's depleted. When the surge module is depleted you can buy a new one and keep your old receptacle tester.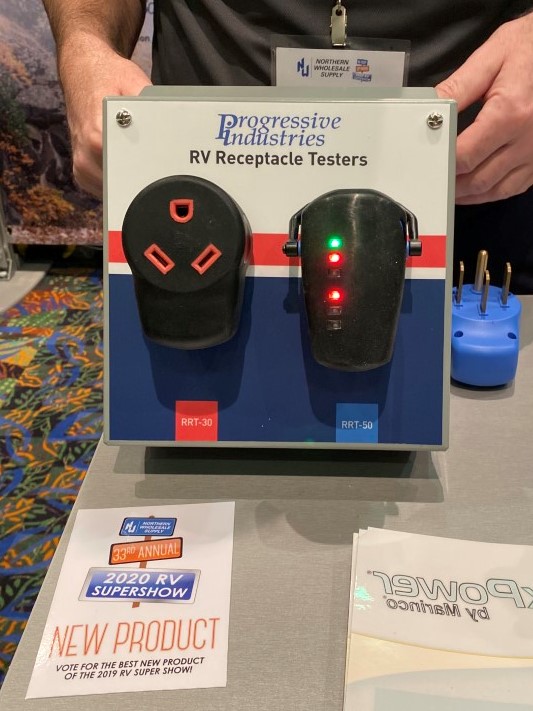 Hitching Post – Stromberg Carlson designed this product to tidy up the tongue of a travel trailer. It has hooks for your safety chains to drape over or snap into and a plug saddle and cover to keep it out of the dirt and mud.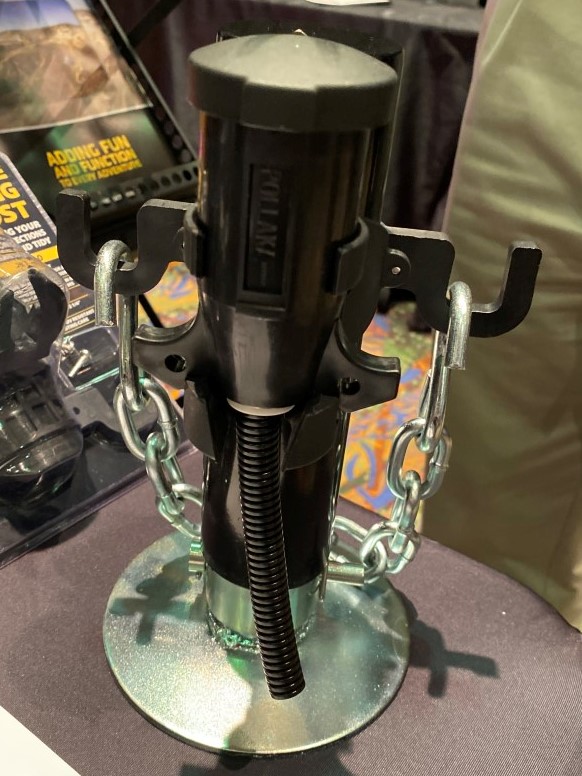 Hose Caddy – This product is a handy way to store up to 75' of a water hose and hose accessories. You can also use it for both 30 and 50amp extension cords. We thought it would be an inexpensive solution for RVs that don't have cord reels.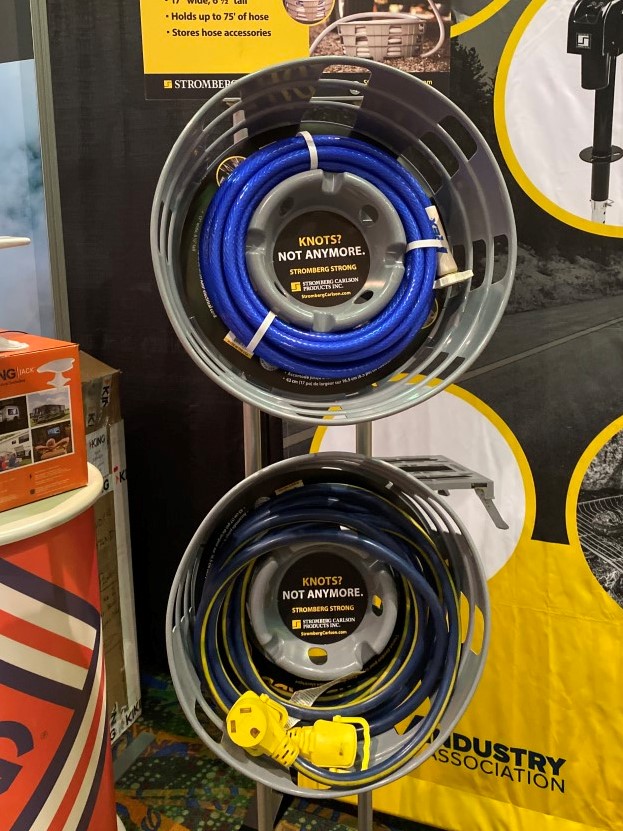 Zip Grips – These grips are a stylish replacement for the chintzy foam that is originally on handrails. They come in charcoal, tan, and blue and are made of UV resistant neoprene with a non-slip rubber backing. For install, just wrap it around the rail and zip it up!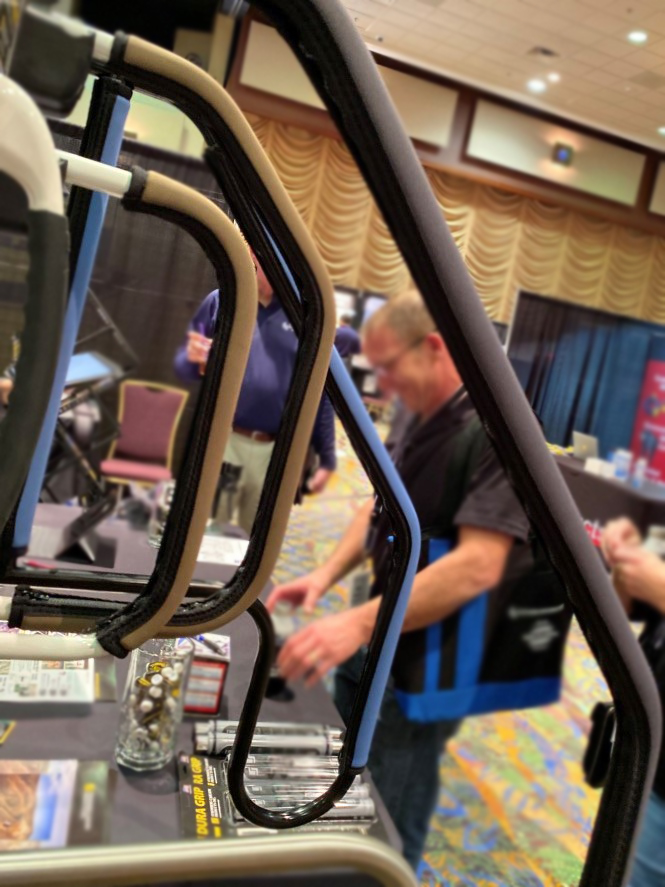 Duragrip – This is another option to replace the worn-out foam on your handrails. It will snap and lock on any straight section of rail – no tools required. It also has a 2-year limited warranty.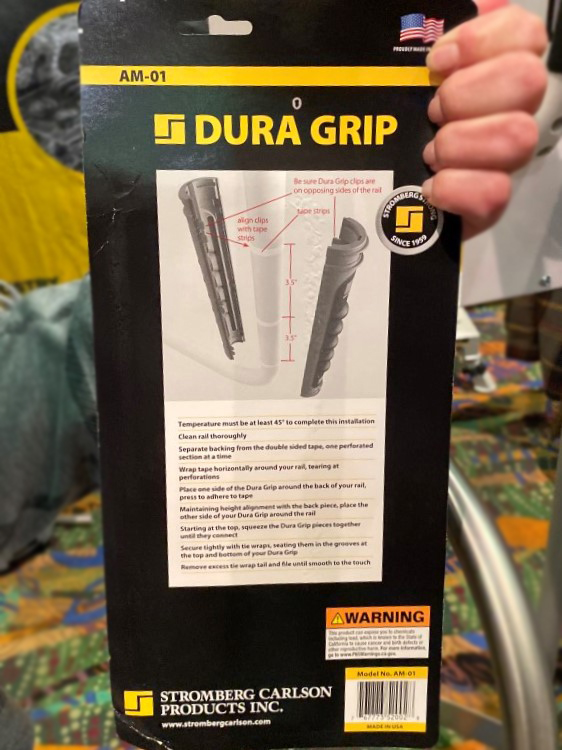 Zero-G hoses – We actually already have in both locations. It is lighter and easier to store than a traditional water hose. They are 600+ psi burst rated and the connections are made of crush-proof airplane grade aluminum. We thought this would be a nice option for anyone who is sick of traditional hoses kinking up or who doesn't have a lot of storage space.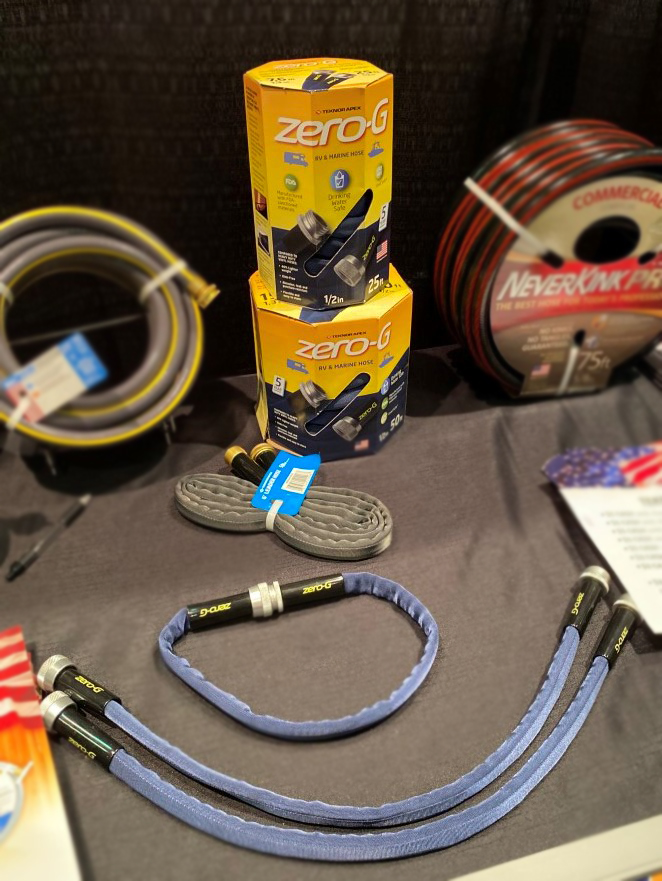 Keyed-Alike Program – If any of you are tired of carrying a ton of keys for your RV this might be something to look into. With this program, you replace all your existing door locks, compartment locks, etc. for new ones that are all keyed alike. It also has the benefit of replacing 751 locks, a common compartment lock that has a universal key, for added safety.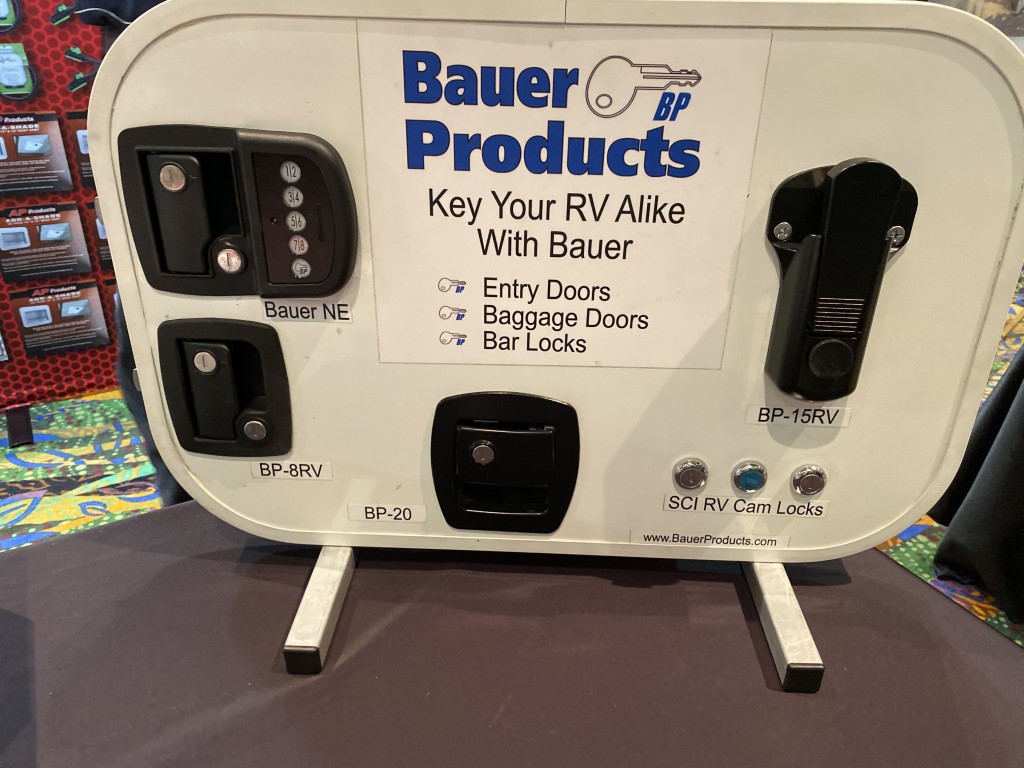 Tank Check Propane Sensors – This product allows you to monitor your propane levels on your smartphone or tablet with the Tank Check app. The sensors magnetize to the bottom of your tank and use ultrasound technology to accurately read the amount of propane in your tank. On the app, you can set up an alarm to notify you when your propane gets to a certain percentage. We loved this product because other gas gauges use pressure, which fluctuates with temperature, to guess how much propane is in the tank.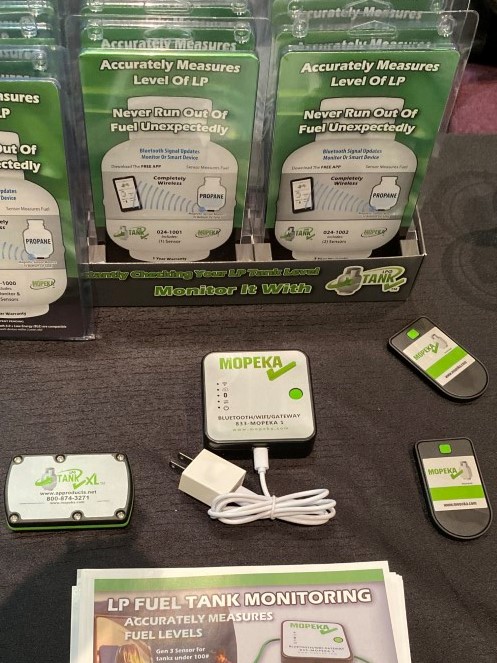 If you have any questions please give Kacy (Dickinson – 701-483-9844) or Christy (Beulah – 701-873-2103) a call!